Lora Sex Fights and Punishment Pegs Weak Male Wrestler
Lora Cross loves nothing more than taking a weak man and showing him just how weak he is by bullying him on the wrestling mats, destroying his confidence and his body at the same time with her superior athleticism and technique.
Fuck Buck is no exception. He thinks he stands a chance grappling against Lora, but what a dumbass! It is total annihilation for him from Lora from the beginning, and he is soon writhing in pain in Lora's submission holds.
By now, you should know what losing to Lora means- you get fucked with her strap-on. If you're a girl, well, that may not be a total loss, because Lora is good at pleasuring pussy with a good fucking. If you're a man, well, you're taking it up the ass. And poor Buck… Lora has a friend, Agatha Delicious, who has been invited over to take part in Buck's punishment and destroy his asshole with her own strap-on as well…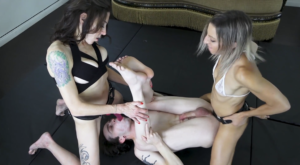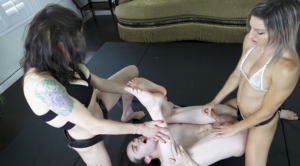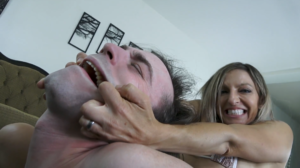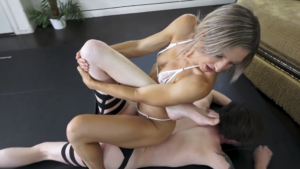 Non-Member? Buy This Video On Demand by clicking Add To Cart.