Lora dominates Hollywood in sneakers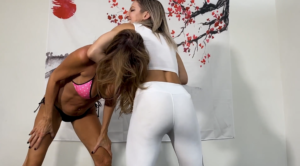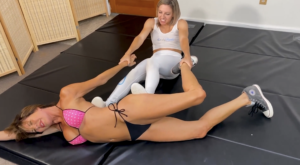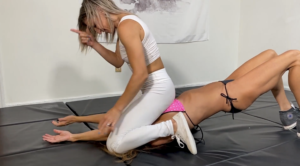 Models: Lora Cross and Hollywood
Outfit Lora: Lora in the that white only fans outfit and her white tom tailor tennis shoes
Hollywood Outfit: sport (leggin also oke) or bikini outfit wearing converse or vans sneakers or boots
Lora overpowers en outwrestles an cocky hollywood all the time, Hollywood keeps struggling and squirming and fighting back and attacking again after each submission, but each time Lora manages to wrestle Hollywood down. She submits several times pinned by Lora in different holds finally Lora puts Hollywood in a sleeperhold doing victoryposes and take some selfies and pics of beaten hollywood before she leaves the room!
Hollywood ends up each time helpless moaning and groaning only tapping out maybe some begging only. Each time when she tries again she can have a big mouth but when wrestled down she loses her talk also each time.
Non-Member? Buy This Video On Demand by clicking Add To Cart.